[vc_section el_class="mqc-section section-white"][vc_row row_type="row" stretch_row_type="no"][vc_column][vc_column_text]
Getting started with our Cloud Solution powered by MyQuickCloud
Enjoy secure remote access with MyQuickCloud
Our Cloud Solution powered by MyQuickCloud liberates desktop programs and makes them available any time anywhere, whether they are installed on in-house systems or on cloud servers.
Just follow the simple steps below and within a few minutes you'll be able to enjoy ultimate flexibility and improved productivity through secure remote access.
[/vc_column_text][vc_raw_html]JTIwJTIwJTNDZGl2JTIwY2xhc3MlM0QlMjJ0ZXh0LWNlbnRlciUyMiUzRSUwQSUyMCUzQ2lmcmFtZSUyMHdpZHRoJTNEJTIyNTYwJTIyJTIwaGVpZ2h0JTNEJTIyMzE1JTIyJTIwc3JjJTNEJTIyaHR0cHMlM0ElMkYlMkZ3d3cueW91dHViZS5jb20lMkZlbWJlZCUyRmFXblJHcDBkaG9nJTIyJTIwZnJhbWVib3JkZXIlM0QlMjIwJTIyJTIwYWxsb3dmdWxsc2NyZWVuJTNFJTNDJTJGaWZyYW1lJTNFJTIwJTIwJTIwJTIwJTNDJTJGZGl2JTNF[/vc_raw_html][/vc_column][/vc_row][vc_row row_type="row" stretch_row_type="no"][vc_column][vc_column_text]
1. Create an account
Click the button below and follow the easy steps to register and activate your account from our website.
2. Set up the host computer
Choose which computer will become the host; the host is the computer where the programs you want to share are installed. This might be a computer where MyQuickCloud is already installed.
Download MyQuickCloud onto the chosen computer.
Any Windows Desktop or Server computer can be used as a host.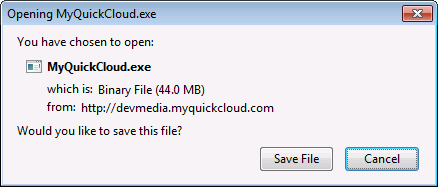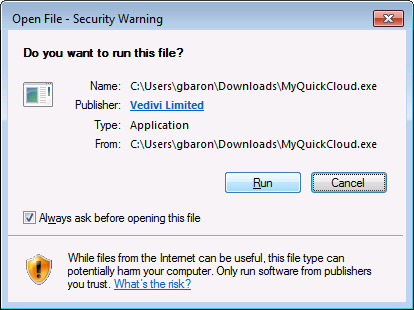 Once MyQuickCloud by MyQuickCloud is installed you can sign in with the login details created in Step 1.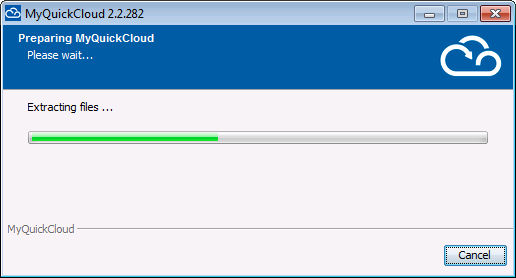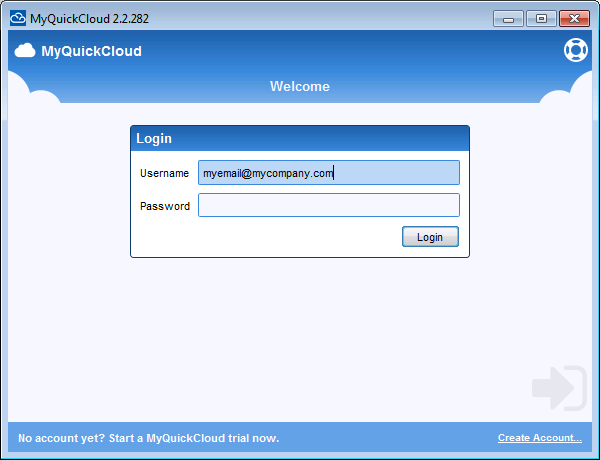 A dashboard will appear where you can configure all your settings, including the host.
Click on "Add Host" and follow the steps. Green check marks indicate a successful host set up.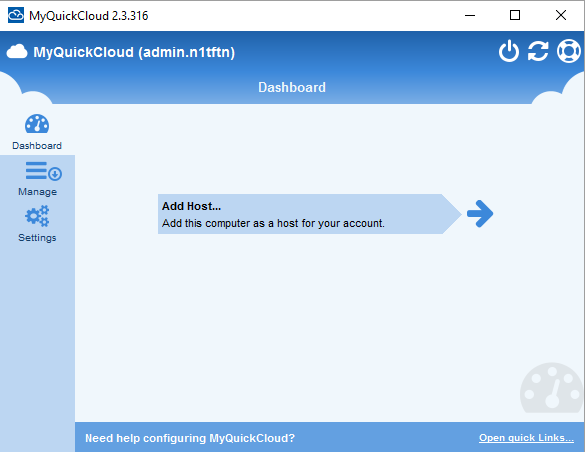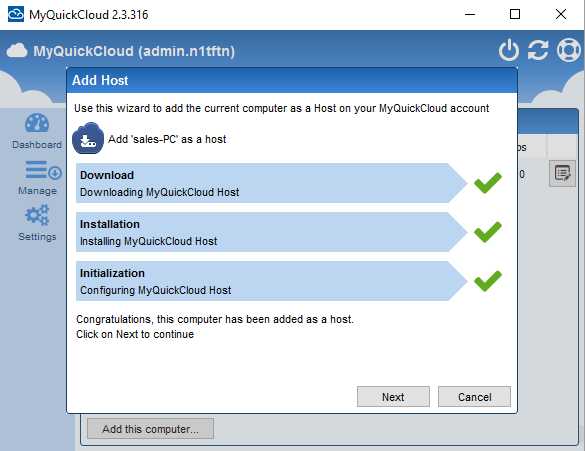 The host is now configured
The remaining setup can be done from any other computer through MyQuickCloud by (no need to be on the host).
3. Publish a Virtual Desktop
In the dashboard, click on "Publish Virtual Desktop…" to add a virtual desktop application.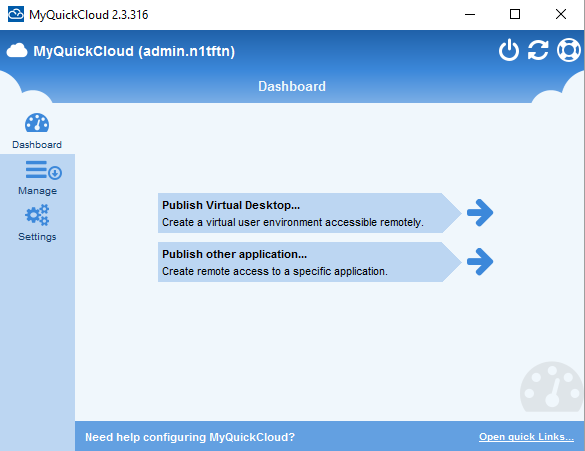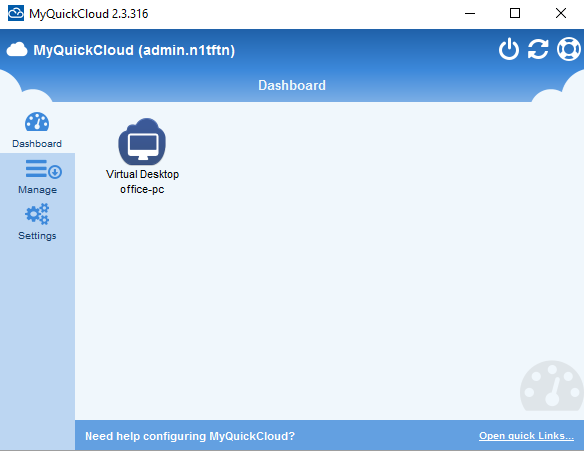 A Virtual Desktop can be used for admin purposes or by remote users to open different applications.
4. Publish a Virtual Application
In the dashboard, click on the "Manage" tab to expand the admin options and select the "Apps" tab to open the configuration panel.
Click "Create new…" at the bottom of the App Management screen.
You will then be presented the "Publish Application" panel. Use the search to find the program you want to publish. Once done, click "Next".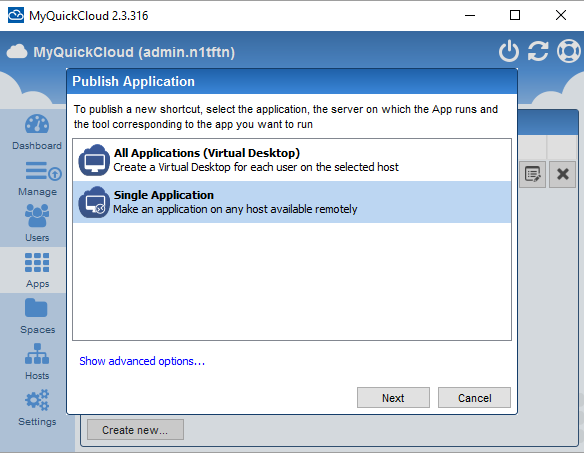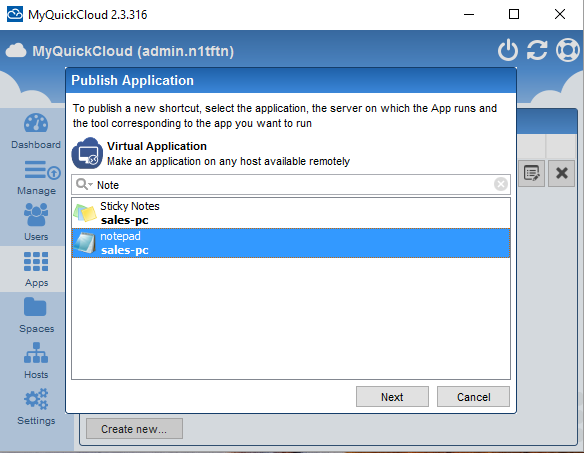 Note: Only administrators can publish applications and make them available for other users.
5. Configure users
You can allow other users to remotely access different programs on the host.
To do so go back to the "Manage" tab and click on "Users" to open the configuration panel.
Click on "Create New…" at the bottom left to fill in required details and finish creating a new user by clicking "Next".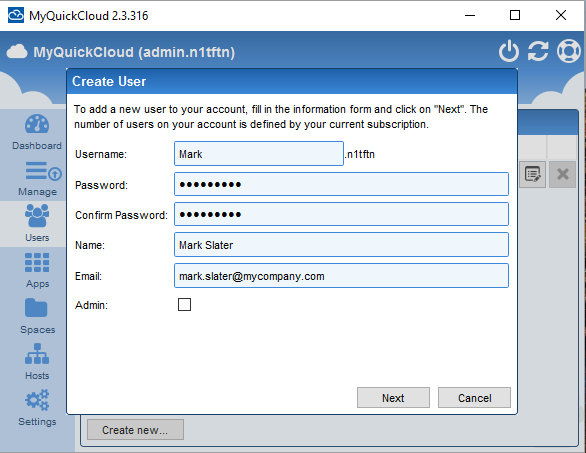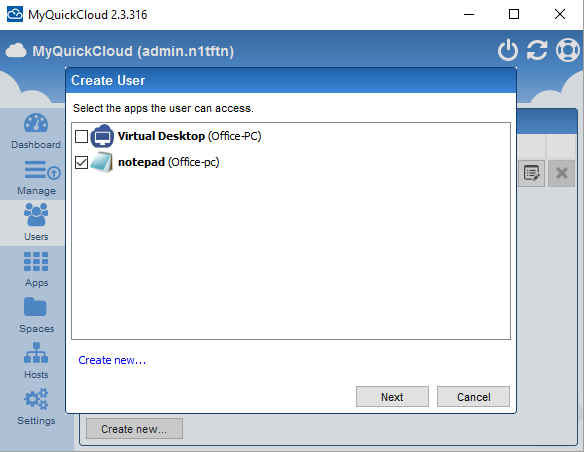 Congratulations!
MyQuickCloud by MyQuickCloud is now configured and ready to use.
To use MyQuickCloud by MyQuickCloud, remote users need to download MyQuickCloud on their device and sign in.
All users configured on your cloud will receive a welcome email with their individual user information and setup instructions.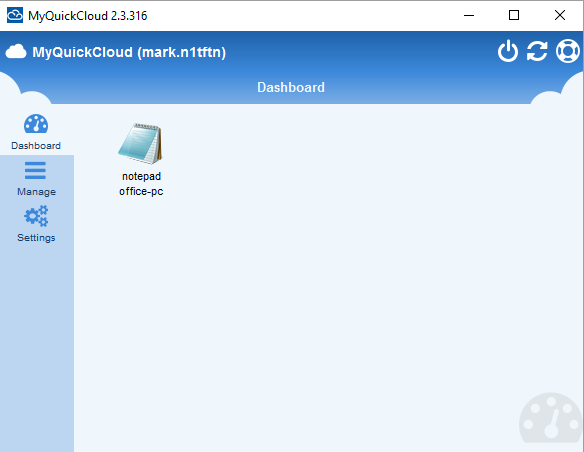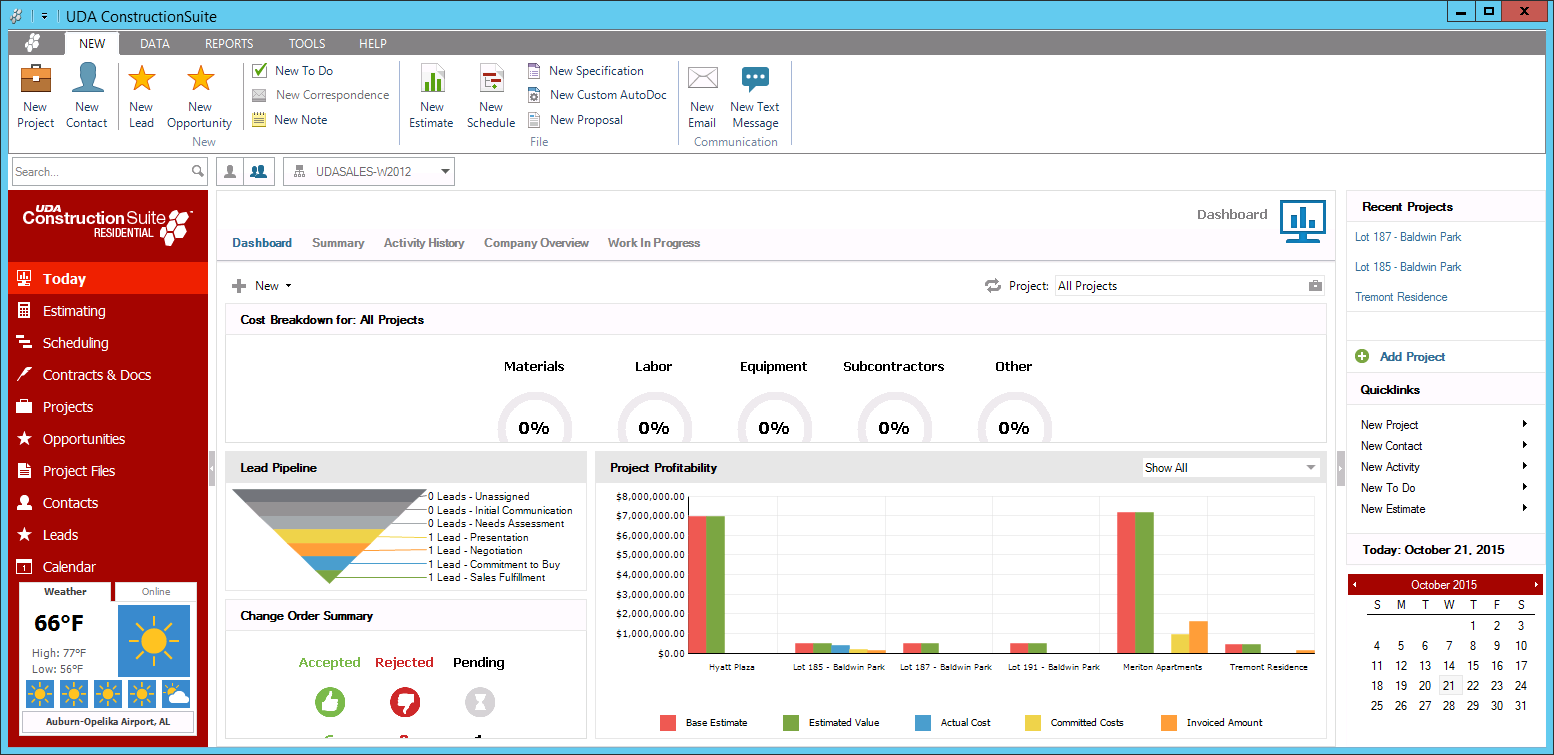 Note: Once the account has been set up you can enter your billing information within seven days via your online account.
[/vc_column_text][/vc_column][/vc_row][/vc_section]